We create games and social spaces targeted at low/moderate gamblers that are first and foremost fun. By looking after our players, treating them fairly, and keeping them safe, they stay with us month after month, year after year. 
This generates sustainable revenue for us and allows us to really get to know our players and tailor our service to their needs. Our players understand that we are different to our peer group, and they choose our brands because they know that they'll be in good hands.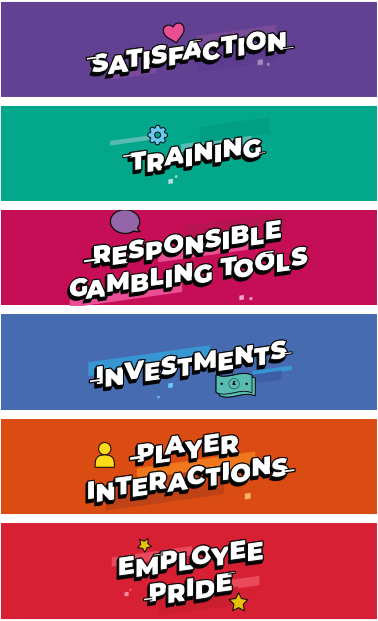 Player wellbeing is integrated into everything we do. Our Gamesys purpose is to 'craft entertainment with care' and part of our DNA is to 'be the player'. It should therefore come as no surprise that we put a huge amount of time and effort into all aspects of player wellbeing – that's looking after every one of our players by giving them truly excellent and exciting experiences, from fair and trusted brands, and always in a safe environment.
Our Gamesys Cares strategic aim is to be recognised as the industry leader for player wellbeing and we're already well on the way to achieving our ambitions: we're one of only eight companies to be accredited to the GamCare Safer Gambling Standard Level 2 in 2020, and we are now working towards Level 3 (the highest accreditation available in the industry); we have cemented our own Group-wide player wellbeing operating standards in our Global Sustainability Commitment; and we have launched STRIPEs, our global player wellbeing targets.
The seven commitments that form our Global Sustainability Commitment are: a culture of the highest integrity; protecting young people; a market-territory led approach; being proactive; entertaining; aftercare and investing in sustainability.
Our six STRIPEs targets represent our first globally applied player wellbeing key performance indicators and goals. During 2021 we'll be embedding these metrics into the business, collecting data from all areas of our operations and implementing appropriate business changes to achieve our targets. We will share our progress against these measures in next year's Annual Report.
A great experience
A net promoter score for every one of our brands that is higher than those of our peer group.
We are the EGR recognised 'Operator of the Year' and 'Bingo Operator of the Year'. Our first-class entertainment is far more than just Slots, Bingo and Casinos. We
offer chat rooms, live shows and free games, and we really engage with our players – conversing with them, conducting surveys and involving them in testing our new games and products. In fact, 51% of activity on our websites is not gambling related. This fully rounded experience really appeals to our players and is a key reason why we score higher than our peer group in nearly all core measures in our annual player satisfaction survey. Notably our average net promoter score was 31, considerably higher than our peer group's highest score of 201.
We're always evolving our approach and during 2020 we introduced several new and carefully selected games (paid and free), a unique 'Powerbolts' feature offering multiple daily Bingo jackpots and 'Superlinks' which enables players to stay in their favourite room while never missing the biggest games. In response to player insights, we also launched a new rewards hub, 'The Vault' on Virgin Games, which makes rewards more visible and accessible. We have also reduced the automated cash withdrawal time from three hours to one minute for players using VISA Direct.
Reflecting the preference for mobile gameplay, we have created or refreshed nine new 'mobile-first' bingo games and already over a third of our players on these games are new unique users.
In terms of on-boarding new players, our know your customer (KYC) process consists of four layers. Recent process improvements have led to a 5% increase in verification whilst still retaining stringent compliance controls. Our players are now also able to upload verification documents using the digital verification technology Yoti, which is a simple, private and secure way of providing identity across multiple platforms.
Player support is facilitated by an IT system that allows UK staff to view the history of player interactions across multiple departments.
1 Net promoter scores can range from -100 to +100. This year's survey was completed by circa 3,500 competitor players and 1,000 Gamesys Group players per brand. 
Trusted brands
We are more trusted than our peer group, and our players are more likely to return.
Marketing is a key function of our business and a large portion of our supply chain spend. We are committed to ensuring that we, and our affiliates, advertise and market activities in a fair, transparent and responsible way. We deliver this by:
Adhering to relevant regulations and complying with best practice standards including the latest (6th) edition of the Gambling Industry Code for Socially Responsible Advertising.
Dedicating some of our advertising to the safer gambling message. In the UK we apply this to at least 20% of our TV and radio advertising, even though this isn't a regulatory requirement.
Not targeting marketing or advertisements at people under the legal age for gambling, nor making them of particular appeal to this age group. We reinforce this with internal guidance notes on advertising and social media.
Using the best available practice in each market to verify players are over the age of 18, and not sending direct marketing to anyone who hasn't been age-verified.
Making all marketing activities clearly distinguishable as such.
Expert monitoring and checking of our marketing activities. All campaigns are internally reviewed and approved for accuracy, suitability, responsible positioning, non-misleading content, and appropriate substantiation of marketing claims prior to launch.
Ensuring affiliate compliance with our standards through our contract terms and conditions, and automated monitoring of language in their campaigns. All affiliates were asked not to use coronavirus as a marketing opportunity.
Third party review of our marketing activities. Our marketing approach was independently reviewed in early 2020 as part of the Safer Gambling Standard Level 2 accreditation process. TV and radio advertising campaigns are also cleared by relevant third-party regulators prior to broadcast, such as Clearcast in the UK and Autocontrol in Spain.
Comprehensively training all staff involved in marketing. All marketing personnel receive annual training from the Group's legal team and are eligible to participate in the Group's Marketing Academy, which comprises a series of training modules including one on responsible marketing.
We centre our marketing activities around our target player categories. Work to update our segmentation strategy is underway and we have recently launched our six new 'tribes' for the UK. We will be expanding this work to other geographies next year. Another focus for 2021 will be re-positioning our customer care offering to both demonstrate our industry leading approach and to normalise responsible gambling tools.
Our industry-leading approach to responsible marketing contributed to our success in the EGR 'Operator of the Year' and 'Bingo Operator of the Year' award categories.
Responsible gambling
99% of our employees agree that we take responsible gambling very seriously
Protecting our players from gambling related harm is our top priority. Responsible gambling is regularly discussed at Board level and throughout our business. We strive to be at the forefront of managing the issue, and to bring the rest of the industry with us. For us, it is not a point of competition but something to collaborate with our peers on.
Complying with gambling regulations and legislation in the markets in which we operate is our foundation. Our Global Sustainability Commitment drives performance beyond this and defines the minimum standards that we expect of all our territories.
A range of responsible gambling tools are available on all brand websites. On average 34% of our active players have at least one responsible gambling tool in place and in our December 2020 responsible gambling survey, 96% of players said it was easy to find our responsible gambling tools.
We monitor individual player risk continually through sophisticated algorithms. Our latest algorithm update, from December 2019, uses 42 broad-ranging measures and has improved the accuracy of player risk assessments by 8%.
Communication campaigns and/or interventions are triggered automatically based on player risk rating. These range from gentle reminders on responsible gambling tools to more personal contact and for serious cases, account closure and addiction support. Extra controls are in place for VIP and previously excluded players.
We closely monitor the effectiveness of our interventions and their success at changing player gambling behaviours. On average 85% of players who received an intervention call from our responsible gambling team saw a reduction in their algorithmic risk rating after seven days.
How we form long-term player relationships
Attract the right people.
We use responsibly positioned and expertly executed marketing to attract low/moderate risk-taking players of a legal age to gamble.
Carefully select our players.
No one under legal age, no one who has self-excluded in the past six months and no-one registered with GAMSTOP can play.
Create their individual safe place.
Registration prompts setting of deposit limits and prohibits use of credit card payments in the UK.
Communication and promotion of responsible gambling tools commences immediately.
Provide fantastic entertainment in a controlled environment.
Extensive non-gambling entertainment including free games and chat rooms.
Regular promotion of responsible gambling tools.
Readily contactable customer support.
Continuous algorithmic monitoring of individual player risks and automatically triggered risk-level appropriate support.
i. Player controlled risk  management tools for all.
Deposit limits.
Session reminders (allows players to set a time limit for how long they want to play).
Cool-off periods (player set time breaks of between 24 hours and 6 weeks).
Self-exclusions (full exclusion from all our brands).

ii. Professional and personal support for at-risk players.
Investigate: Skilled responsible gambling teams analyse account information using an intelligent review system.
Interact: Tailored rapid responses proportionate to the level of need (e.g. site pop-ups, automated emails or phone calls etc.).
Intervene: Where we believe a problem exists, we immediately close accounts and provide territory specific gambling support. In the UK this includes funding Gamban (software to prevent gambling applications working on phones and other devices), encouraging and directing players to GAMSTOP (prevents players using other UK licensed gambling sites) and directing players to appropriate mental health and gambling charity services.
Our responsible gambling processes are supported by a number of dedicated teams in the business. These highly skilled teams are responsible for: providing player host (entertainment activities and dialogue) services whilst monitoring player risk signs; providing personalised and unscripted support to players at risk of gambling-related harm; continuous data-based monitoring of player behaviour. The latter is conducted by data analysists who hone our algorithms, thresholds, limits and other responsible gambling tools.
All player-facing roles receive in-depth and specialist responsible gambling training. In the UK this is delivered by third party experts such as Mind, Samaritans, GamCare and addiction therapists. In addition, every employee, regardless of role, has to complete a mandatory annual responsible gambling e-learning module. This year we have refreshed the latter training and for the first time tailored it to different regulatory markets.
Following research by behavioural science experts, we have this year trialled repositioning our player messaging and adapting our tone of voice to normalise the use of responsible gambling tools. Our aim is to encourage players to use the tools as standard, rather than as a consequence of at-risk behaviour. Findings from the trial have been very positive, with a marked increase in the use of responsible gambling tools. Work is now underway to overhaul the tone of voice across all brands and communications.
Recognising that younger adult players are at greater risk of developing problem gambling we have this year engaged a panel of youth players to help us explore and gain a better understanding of their playing behaviours. The findings from this will be used to tailor our approach to 18-24 year olds in 2021.
Our progressive approach to responsible gambling is widely recognised by the industry, our players and employees. We were highly commended in the 'Safer Gambling Operator of the Year' category of the 2020 EGR Awards, were one of only eight operators to have achieved the GamCare Safer Gambling Standard Level 2 in 2020, and for yet another year our players have told us that we take responsible gambling more seriously than any of our peer group. Further, in our annual survey of employees, 99% agreed that we take responsible gambling very seriously.
Data privacy
ISO 27001 aligned Information Security Management System
We recognise the importance of protecting personal information and are committed to processing it responsibly and in compliance with applicable data protection laws in all countries in which we operate. Our ISO 27001 aligned Information Security Management System includes policies and procedures to assess, treat and mitigate risks, implement technical and physical controls, respond to incidents, provide training and ensure security in outsourced data processing.
The Group possesses and maintains ISO 27001 and PCI-DSS Level 1 Service Provider certifications for some of its entities and is working towards achieving ISO 27701 (Privacy Information Management) certification in 2021. The Group's commitment to data privacy forms part of our Human Rights Policy, with further details included in our Privacy Mission Statement, both of which are available here.