Gamesys Cares
Our goal is to be recognised as the industry leader for player wellbeing, employee engagement and our positive impact on the community and environment.
Player wellbeing

Certified to Gamcare Safer Gambling Standard Level 2

(one of only eight organisations to have achieved this in 2020) 

People engagement

EGR Operator Employer of the Year Award



 




Building a brighter future

Carbon neutral operations

Signatory of the UN Global Compact


Transparent reporting is a crucial component of this so for 2020 we'll be referencing our Annual Report to the Global Reporting Initiative, included our impacts on the UN Sustainable Development Goals and presented our new strategy, 'Gamesys Cares'. There's also a lot of achievements to tell you about – our GamCare Safer Gambling Level 2 accreditation, the work of the Gamesys Foundation, becoming operationally carbon neutral and signing the UN Global Compact, to name but some.
Being a responsible business is core to Gamesys Group plc. It's part of our vision ('Crafting entertainment with care'), our values and our identity. Quite simply it is how we do business. And we're gaining recognition for this externally. We're part of the FTSE4Good Index and have scored highly on the MSCI, Bloomberg and VE (previously Vigeo Eiris) ESG rating schemes. For the ISS ESG rating scheme we achieved the highest accolade possible, 'Prime' status, in January 2021.
Our approach is led from the top by our Board level ESG Committee. The ESG Committee is responsible for overseeing and publicly reporting on the Company's approach to all aspects of sustainability, including stakeholder engagement. The Committee is supported by our new Sustainability Director role which reports directly into the CEO. The Sustainability Director is responsible for co-ordinating and overseeing the Group's strategic approach to sustainability. We leverage our Business in the Community membership and external sustainability experts to guide our approach.
FTSE Russell (the trading name of FTSE International Limited and Frank Russell Company) confirms that Gamesys Group has been independently assessed according to the FTSE4Good criteria, and satisfied the requirements to become a constituent of the FTSE4Good Index Series. Created by the global index provider FTSE Russell, the FTSE4Good Index Series is designed to measure the performance of companies demonstrating strong Environmental, Social and Governance (ESG) practices. The FTSE4Good indices are used by a wide variety of market participants to create and assess responsible investment funds and other products
Our strategic approach
Our sustainability strategy is one part of the Group's wider strategic plan. This year we have refreshed and relaunched the sustainability element, which we call, 'Gamesys Cares'. Our ambitious overarching strategy aim is to be recognised as the industry leader for sustainability, which for us, means responding to the broader (social, economic and environmental) and long-term impacts of our business.
Gamesys Cares has been developed to reflect the priorities of our stakeholders, along with operational risks and opportunities. Stakeholder priorities were identified through a materiality assessment, including an in-depth review of investor and ESG rating scheme requirements, peer performance, and stakeholder feedback. An external sustainability expert was involved in this process. Group risks and opportunities were evaluated using the Group risk review process.
To form our strategy our most material sustainability impacts have been clustered into three themes, 'player wellbeing', 'people engagement' and for our broader social and environmental responsibilities, 'building a brighter future'. For each of these we have set challenging targets for 2021, some of which we have already accomplished.
An additional workstream is in place to enhance our stakeholder sustainability communication and engagement.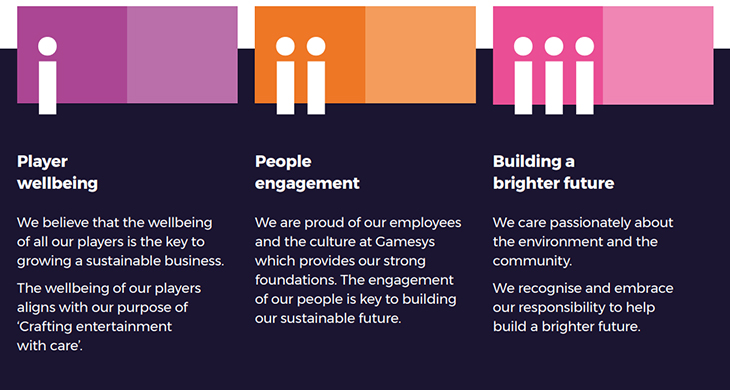 Abiding by our policies
Our approach to sustainability is governed by a framework of Group policies. Core Group are available to employees on our intranet. Our policies apply globally but are adapted locally as necessary to reflect community and cultural needs.
Individual responsibilities for complying with our policies are enlivened in our Code of Conduct, which gives practical examples of the behaviours that we expect of employees, and those that are prohibited.
Employees are introduced to our policies and Code of Conduct during the induction process and all employees are required to complete annual compliance training covering anti-money laundering, anti-bribery and corruption, data privacy, information security, whistleblowing and responsible gambling.
Compliance with our Group policies, procedures and Code of Conduct, is periodically monitored by our internal audit function. Audits are conducted on a risk-based approach, in accordance with the Risk and Audit Committee approved audit calendar. Any suspected non-compliances can also be raised by employees and other stakeholders to the People Team or through our globally accessible independent whistleblowing hotline.
This year we updated our Whistleblowing Policy and refreshed the promotion of the whistleblowing hotline. No significant breaches relating to any of our core Group policies were raised through this process during 2020.
Regulatory compliance
We're committed to operating in compliance with all relevant legislation, regulations and licensing requirements, including, but not limited to, those relating to anti-competition, corruption, data privacy, environment, gambling, health and safety, human rights, marketing and tax.
Our adherence is centrally overseen by a dedicated Compliance Team, with board level Director oversight via the monthly Compliance Committee meetings. This year the Compliance Team has been expanded, and four colleagues have achieved International Compliance Association (ICA) professional qualifications.
Compliance with people-related legislation is overseen separately by the People Team and similarly tax legislation is overseen by the tax department.
A new compliance monitoring programme which includes country specific regulation system testing has reinforced our approach in Malta, Spain and Sweden and the UK. This programme is being expand to other countries in 2021.
In 2020 external regulator compliance assessments were conducted in the UK (UK Gambling Commission), Gibraltar (Gibraltar Gambling Division) and Malta (Financial Intelligence Analysis Unit). No significant non-conformities were found and work streams are in place to address identified improvement areas.
The UK government has announced a review of the Gambling Act 2005, which we welcome. Our consultation response, along with our response to the UK Gambling Commission customer affordability consultation, is aligned with the response of the Betting and Gaming Council (BGC), where we take a leading role. We advocate for an evidence-based review as to how to enhance the environment for responsible gambling.