We recognise and embrace our responsibility to help build a brighter future for our communities and the environment. 
The Gamesys Foundation, which we fund, donated £995k in grants and funding to mental health-related charitable causes in 2020, only its first year of operation. Environmentally our focus is on climate change and we are proud to now be operationally carbon neutral. 
To substantiate our commitment to being a force for good we have recently become the first FTSE 250 gambling company to become a signatory of the UN Global Compact, an important pledge to advance societal goals relating to human rights, labour, the environment and anti-corruption. We have, and will continue to, embrace the UN Global Compact in our strategy, culture and the day-to-day operations of our business. You can read our latest UN Global Compact Communication of Progress in the Group's Annual Report.
Community impact
In excess of £2.6m donated to charitable causes during 2020.
We are passionate about playing a positive role in society. It is aligned with our mission to, "Craft entertainment with care" and we know our stakeholders think it is important too.
The pinnacle of our contribution is the Gamesys Foundation, which we formally set up as a charity for improving mental health and wellbeing in February 2020. We finance the Foundation with £150k a month (£1.8m in 2020) and by the end of December 2020 the Foundation had received a total of £2.3m in funding. Foundation funds are allocated by the Foundation trustees, who consist of three Gamesys Non-Executive Directors and two independent Directors. Donations in 2020 totalling £995k have been given to a number of mental health related charities, including Women's Aid, British Red Cross, Sue Ryder, Clubhouse, Mediatrust, Family Action and Alice. More information on the Foundation can be found on https://gamesysfoundation.org/.
Our employees play an active role in the Foundation. They have been engaged in the selection of charitable causes supported, and in November 2020 we launched our 'Making Smiles' campaign, which makes £100k of Foundation funding available to mental health and wellbeing causes that employees have a personal involvement with.
Aside from our Foundation activities we support our communities in a number of ways:
Corporate charitable donations. In 2020 we donated £864k to charitable causes, in addition to those supported by Gamesys Foundation. These included sizeable contributions to GambleAware to support research, education and treatment services to help minimise gambling-related harm in Great Britain and to support delivery of their Safer Gambling Campaign.
Volunteering Policy. We introduced a company-wide volunteering policy in Spring 2020. The policy entitles all employees to receive up to five days' worth of extra pay for time spent volunteering.
Locally organised activities. Employees are empowered to organise and run charitable activities locally. Examples include wearing pink to raise funds for a breast cancer charity in Sweden; donating Easter eggs, food and drink to vulnerable families near our Stoke office; delivering food to the Mater Dei hospital in Malta; and fundraising for Movember. For the latter colleagues raised in excess of £12k which was matched by the Foundation to double the total donation.
Anti-Corruption
We prohibit and strive to prevent corruption in all its forms, including bribery, facilitation payments, money-laundering, insider-dealing, embezzlement, fraud, extortion and political donations for the purpose of influencing public officials. Our global approach is detailed in our Anti-Bribery and Corruption Policy, which in 2020 was refreshed and reinvigorated with updated compliance training for all employees.
Our corruption-related procedural framework includes:
Guidance and approval procedures for gifts and hospitality.
Anti-money laundering risk reviews (annual plus ad hoc for significant business changes) and mitigation measures. These include automated and manual methods to verify a player's age, identity and source of funds.
A number of player activity and threshold measures are continuously checked and automatically trigger enhanced monitoring. For high-risk cases enhanced due diligence reviews are conducted, aided by holistic player profiles.
Policies, processes and controls to ensure that Directors and relevant employees are aware of their responsibilities in relation to the proper treatment of potential inside information, and are prohibited from trading at appropriate times. A Disclosure Committee is in place and is responsible for determining whether any information constitutes inside information.
Detailed definitions on conflicts of interest and the requirement for employees to avoid, but where not possible, declare, potential conflicts of interest. Significant conflicts of interest are referred to our Conflicts Committee.
Bribery and corruption due diligence assessment of suppliers prior to onboarding, and inclusion of compliance requirements in our terms and conditions.
Anti-bribery compliance training for all employees plus more specific training targeted at roles relating to higher risk areas. This includes in-depth anti-money laundering training for account managers, money-laundering teams and over 30 senior managers including the Executive Board members.
The Group's approach to corruption is led by the Compliance Team, which has recently expanded, and is overseen by the Group's Compliance Committee. The Group also has two named Money Laundering Reporting Officers. The Group's Head of Compliance does not receive any bonus relating to the financial performance of the Company.
All employees are made aware of their individual responsibilities in relation to preventing corruption, and the business and personal consequences for non-compliance.
Environment & climate change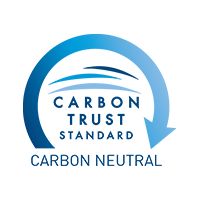 Carbon Trust certified carbon neutral operations.
We recognise the global importance of environmental issues and are committed to understanding, managing and mitigating our environmental impacts. Our most significant impact, albeit still relatively small, is climate change. To demonstrate our commitment, last Autumn we introduced our first Group-wide Environment, Energy & Climate Change Policy.
Our policy includes two targets. First, to be operationally (scope 1 and 2) carbon neutral by 2021, something we have already achieved, and that has been verified by the Carbon Trust in-line with ISO 14064-3 (carbon footprint) and PAS 2060 (carbon neutrality). The process behind this is detailed in our Qualifying Explanation Statement.
Second, to reduce our direct greenhouse gas emissions from energy consumption by 50% by 2023 (compared to the 2019 baseline). Our strategy to achieve this includes a combination of activities to improve our energy efficiency and to move electricity supplies to renewable sources wherever possible.
Our energy efficiency activities during 2020 include:
Decommissioning and replacing equipment well before its end of life, thus capitalising on technological improvements in power efficiency.
Using internationally recognised certificates to verify product efficiency at purchase. For example our standard issue laptops, desktops and printers (which account for 90% of Office IT equipment purchases) all have either Energy Star or Blue Angel certification.
Provision of video conferencing, laptops and other technology to enable home working and reduce travel.
No provision of Company vehicles to disincentivise travel.
Local management of heating and air conditioning systems to reduce wasted consumption.
Local energy reduction initiatives. For example, in Malta where we have two offices, we fund employee use of car-pooling, electric scooter hire and bike hire schemes. In the UK we participate in the government's 'cycle to work' scheme and offer discounted travel cards for public transport in London.
As a result of these activities, and the impact of COVID-19, our gross (pre-offset) greenhouse gas emissions for 2020 were 407 tonnes, a reduction of 32% from 2019 (using the location-based method).
Whilst we are proud of our carbon neutral achievement, we recognise that this only relates to our operational footprint. During 2021 we will be working on measuring and understanding the risks associated with our scope 3 emissions, in accordance with the Task Force on Climate-Related Financial Disclosures (TCFD) recommendations. We are already measuring emissions from our closest supply chain partners and have chosen to offset these alongside our own operational emissions this year. Emissions from data centres are likely be another significant source of scope 3 emissions (over 90% of our data storage is outsourced) however, positively, we already know that over half of our third-party data cabinets are now in data centres powered by at least 92% renewable energy.
Finally, although our business waste is relatively small, we are careful to do this in an environmentally friendly way. Office waste segregation and recycling is commonplace and where possible we use recycling schemes for decommissioned equipment. For example, in the UK (which reflects over 90% of the Group's desktop PCs, over 60% of the Group's laptops and over 50% of the Group's server capacity) we partner with a reputable third party IT equipment recycling company to safely recycle all servers, laptops and printers, whilst desktops are recycled via manufacturer trade-up programmes. Hard disks in all locations are shredded to maintain data security.
Human rights
Gamesys' first global Human Rights Policy launched.
As an online service operator employing predominantly skilled workers, and with a supply chain again of predominantly skilled workers, our overall risk of infringing on human rights is low. However, we are a large and growing global operator and as such, acknowledge the importance of defining and implementing procedures that reflect and ensure our on-going commitment to respecting human rights. For this reason, during 2020 we applied the UN Guiding Principles on Business and Human Rights to launch the Group's first Human Rights Policy.
Our policy was developed by an internal Human Rights Working Group and facilitated by a third-party expert. By conducting a Group-wide Human Rights Impact Assessment the most significant potential impact areas were found to be data privacy, discrimination and health & safety, and to a lesser extent local employment, freedom of association, collective bargaining, forced labour, child labour, security of employment, wages, benefits and working time.
For each impact areas the Group's approach was compared to the International Labour Organisation (ILO) Declaration on Fundamental Principles and Rights at Work standards. The Group was found to be fully compliant with all ILO core standards. One minor breach of a non-core ILO standard was identified (relating to annual paid leave in one country) and was immediately remedied.
No significant human rights related incidents occurred during 2020.
Taxation
Gamesys Group plc aims to achieve a low level of tax risk and to comply with the tax regulations in all the countries in which it operates. As taxation of international online businesses is complex and the tax environment is subject to ongoing change, we closely monitor changes in relevant tax practice and law and actively assess any consequences for the Group. We take expert advice when there are changes to our business that may require tax planning.
We proactively engage with the relevant tax authorities when appropriate to foster cooperation and ensure continued compliance with the regulations. We may also participate in consultation processes when changes to tax policy that could significantly impact the Group are under consideration.
The Board has overall responsibility for the Group's risk and control framework. To manage tax risk, the Board has approved a Group-wide tax risk management policy which sets out the processes which must be adopted when making tax decisions. In line with UK requirements, the Board has also adopted a UK tax statement and has approved a Group-wide anti-tax evasion policy which codifies the systems and procedures required to ensure the Group does not facilitate tax evasion.
Anti-competitive practices
We respect the laws on anti-competitive practices and prohibit agreements not to compete (including price-fixing, bid rigging, sharing markets/customers and sharing commercially sensitive information), abuse of a dominant market position and non-respect of confidentiality agreements.